Praxis Testimonials...
The following are a just a few of many Praxis student and client testimonials. In over 15 years of practice, many hundreds of people have benefited greatly from their experiences in classes and sessions...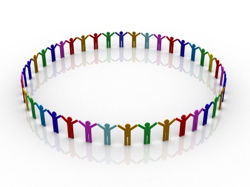 "I enjoyed every aspect of the course. I was able to come to a new level of awareness in my spiritual life..."
-Registered Nurse
"THE most USEFUL class I have EVER taken (including university!!)"
-Busy Mother
"All the tools are helpful and I will definitely use them in meditation and in everyday life after this course."
-Natural Health Practioner
"What I liked the most about the course was the hands-on approach and experimenting with the new tools and concepts--it's the best way to learn!..."
-Middle School Teacher
"Excellent. Awesome. I don't know what life would be like without doing this. This has all been amazing."
-Photographer
"This course provided me with more growth than I ever imagined or expected. I was just taking it because I was curious. A heart-felt thank you for all the gifts you have given me."
-Yoga Teacher
"Thank you so much...this is changing my life..."
-Chef
"Great teachers, very organized curriculum, safe environment to heal and learn. I am so glad I took this course...The energy feels positive and safe. I would like to learn as much as I can about this new world. It is the beginning of an exciting journey."
-Alternative Health Practitioner
"Beautifully supportive and validating of individual process."
-Professional Musician
"I liked the group dynamics, I felt comfortable and validated among the others present at Praxis Centre."
-French Teacher
"This has been worth every minute of my time."
-Business Owner
"Very clear...this system of energy work is amazing."
-Massage Practitioner
"I am very impressed with the whole course and I am so glad I took it. You guys are great...I would like to say that you are all very gifted teachers--your knowledge, skills, format and curriculum were phenomenal!!!"
-Elementary School Teacher