Aura Healing & Aura Field Healing...
Releasing Blocks, Creating Flow
Aura healing is also known as spiritual healing, energy healing, or psychic healing. Aura field healings are an excellent way to release blocks and unwanted energies, and get your own energy flowing, so you can heal.
Spiritual healing works from the perspective, heal spirit and spirit heals the body. Rather than focusing on body levels, aura healings focus on your spiritual energy system: your aura, energy channels, chakras, etc.
Many physical problems have their root cause on an energy level. In other words, physical problems can be a symptom of energetic, emotional, psychic, or spiritual issues. Rather than focussing on the body symptom, spiritual healing can work with problems at their energetic root cause.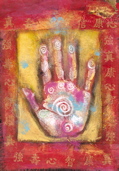 Aura healing also works from the perspective, all healing is self healing. Certainly, a healer can support you in getting grounded, being more present, releasing blocks and creating more flow of your own energy. But they cannot do it for you. You need to be a willing participant.
As spirit, you are in charge of the healing. It is up to you how much you release from your space. If you don't want to let something go, no one can force you to. In the end, it is the flow of your own energy which creates healing. So a healer can support you, but you are in charge of your own healing process...
THE AURA HEALING PROCESS

1. During an aura field healing, the first step is to help you get grounded to become present as spirit in your body. You can also learn to do this for yourself. For more info, see Aura Meditation in How to Meditate.
2. The healer then combs through your aura to support you in releasing foreign energy and psychic debris. For more background information, also see page on Aura Cleansing.
3. The healer goes on to help you increase the flow of earth, cosmic, life-force, healing & creative energies through your major energy channels. For more info on energy channels and common causes of energy blocks, also see the page on Energy Healing.
4. You are also assisted in releasing blocks and creating flow of energy through your seven major chakras, or energy centers. For more background info, also see page on chakra healing in Chakras.
5. If there is a specific health issue, a trained healer can address that special focus as well. A healing finishes with the healer helping you redefine the boundary edges of your aura.
Distant Healing/Remote Healing
As spiritual energy is not limited by time and space, distant aura healing becomes possible. Distant healing is especially useful when there are physical or geographic limitations. Distant healings are calming and promote the release of stress. They can also be revitalizing and help speed up recovery times for physical, mental, emotional and spiritual issues. For more information on remote healing, also see the page on Distant Healing.
Phone Healings
Healings by phone are a convenient way to release energies and create a healthy flow in your aura...all in the comfort of your own home. Healing and Readings sessions by phone take about 1 hour and cost $100 CAD. These quality healings are offered by caring practitioners with a minimum of 5 years training in energywork and clairvoyant reading.
Book an Aura Healing by phone.
_______


Find out more about Aura Cleansing, Energy Healing, and Distant Healing.
Or visit other pages on this website...