Best Spiritual Books
Auras, Chakras, Spiritual Healing...
Spiritual books can play an important role in your personal and professional growth process. The Auras Expert top picks for books on auras, chakras and spiritual healing are...
HANDS OF LIGHT
A Guide to Healing
Through the Human Energy Field
Hands of Light serves as a text book for many forms of energy-based healing. Hands of Light offers excellent insights on spiritual healing, self-healing, and psychodynamics. There are also many useful illustrations of auras and energy dynamics. It is a comprehensive book written by Barbara Brennan, a former NASA physicist.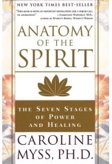 ANATOMY OF THE SPIRIT
The Seven Stages of Power and Healing
Anatomy of the Spirit offers detailed descriptions on the function of each of the seven major chakras. Anatomy of the Spirit brilliantly connects three ancient wisdom traditions...by drawing parallels between the chakra system, the Christian sacraments, and the Sefirot of Kabbalah in Judaism. An enjoyable book written by Caroline Myss, a former medical intuitive and publisher.
WHEELS OF LIFE
A User's Guide to the Chakra System
Wheels of Life is one of the most comprehensive books on the chakras and their function. Wheels of Life also contains guided meditations and practical information for each energy center. Considered a classic, this book is written by Anodea Judith, a western pioneer in the field of chakras.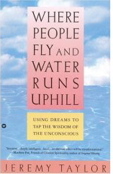 WHERE PEOPLE FLY AND WATER RUNS UPHILL
Using Dreams to Tap the
Wisdom of the Unconscious
Where People Fly and Water Runs Uphill offers insights which are of value both personally, and to society as a whole. Where People Fly... includes techniques, practical examples, and explores the role of dreams in the evolution of consciousness. A fascinating book, written by Jeremy Taylor, a leader in the field of dream work.
It's more and more easy these days to become overwhelmed with choice. For this reason, we aim to keep this list short and sweet. Though there are many other wonderful spiritual books out there. A few more excellent titles include...
Why People Don't Heal and How They Can
by Caroline Myss

Light Emerging
by Barbara Brennan &

Eastern Body, Western Mind
by Anodea Judith.





You can also subscribe to the Auras Insight...your free periodical e-zine from the Auras Expert. Auras Insight reminds you to take time for spirit, keeps you up-to-date with developments, including new articles and web pages, and informs you of the latest features and services from The Auras Expert.com
---
Sign up for the Auras Insight
| E-Zine for Intuitives, Sensitives & Peaceful Global Transformation |
---
Visit other pages on this website which compliment Best Spiritual Books...