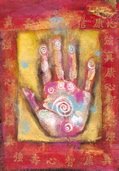 Participant Registration
Enregistrement des participant(e)s
Registro de los participantes
Share
We promise to keep your information totally secure and
only
use it for the Solstice event.
Nous promettons de garder votre information totalement sécurisé et
seulement
l'utiliser pour l'événement Solstice.
Nosotros prometemos mantener su información completamente seguro y
sólo
el uso para el evento de solsticio.
EN
Why register? It is documented that large groups of people meditating, praying and drumming with an intent to create global peace decreases international conflicts, acts of terrorism and crime rates. The √ (square root) of 1% of the population is the accepted number to create significant impact. We are hoping to get to at least 10000 people for the
Planetary Healing
day on the December Solstice. Event
Registration
|| Planetary Healing
Locations
.
FR
Pourquoi enregistrez? Il est prouvé scientifiquement que les groupes très grands de personnes qui méditer, prier et/ou tambourer avec l'intention de créer la paix diminue les conflits internationaux, les actes de terrorisme et les taux de criminalité. Le nombre accepté de créer un impact significatif est la √ (racine carrée) de 1% de la population. Nous espérons d'arriver au moin à 10,000 personnes pour la journée de La
Guérison Planétaire
sur le Solstice de Décembre. L'enregistrement
des événements
|| Les
Locations
de la Guérison Planétaire.
ES
¿Porque regístro? Está documentado que grupos de personas muy grande que meditando, orando y tamborando con la intención de crear la paz disminuye los conflictos Internacionales, actos de terrorismo y criminalidad. El número aceptado para crear un impacto significativo es la √ (raíz cuadrada) del 1% de la población. Estamos con la esperanza de llegar al menos a 10.000 personas para el día
La Sanación Planetaria
en el Solsticio de Diciembre. Registro
de eventos
|| Los
Localidades
de La Sanación Planetaria.